Ch. Bubbleton Birthday Bandit aka Marley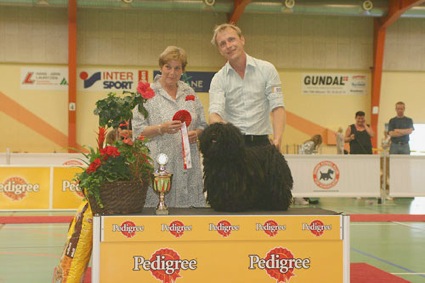 Marley or the Bandit is a litter brother to Jou Jou, he was sold as a puppy on one condition, that we could show him!
He was our pick of the litter after Jou Jou.
His novice owners were not at all interested in showing so we did the grooming and bathing prior to his show days, the Bandit enjoyed his week-ends here, and he was a delight to show.
2007 was to be his peak year, he was TOP Puli male in Denmark and Joint Top Puli with sister Jou.
His owners who are dedicated horse people were talking about clipping him down, as his huge coat was a nightmare for them with him running around with the horses.
He was their dog so of course we agreed, though we do miss showing this fantastic dog, one CACIB shy of his International title.